December 19, 2018
---
After a day of fun and a day of Sales Training, our 2018 Annual Meeting concluded as it always does with our Award ceremony and dinner, where we get the chance to recognize some of our exceptional employees.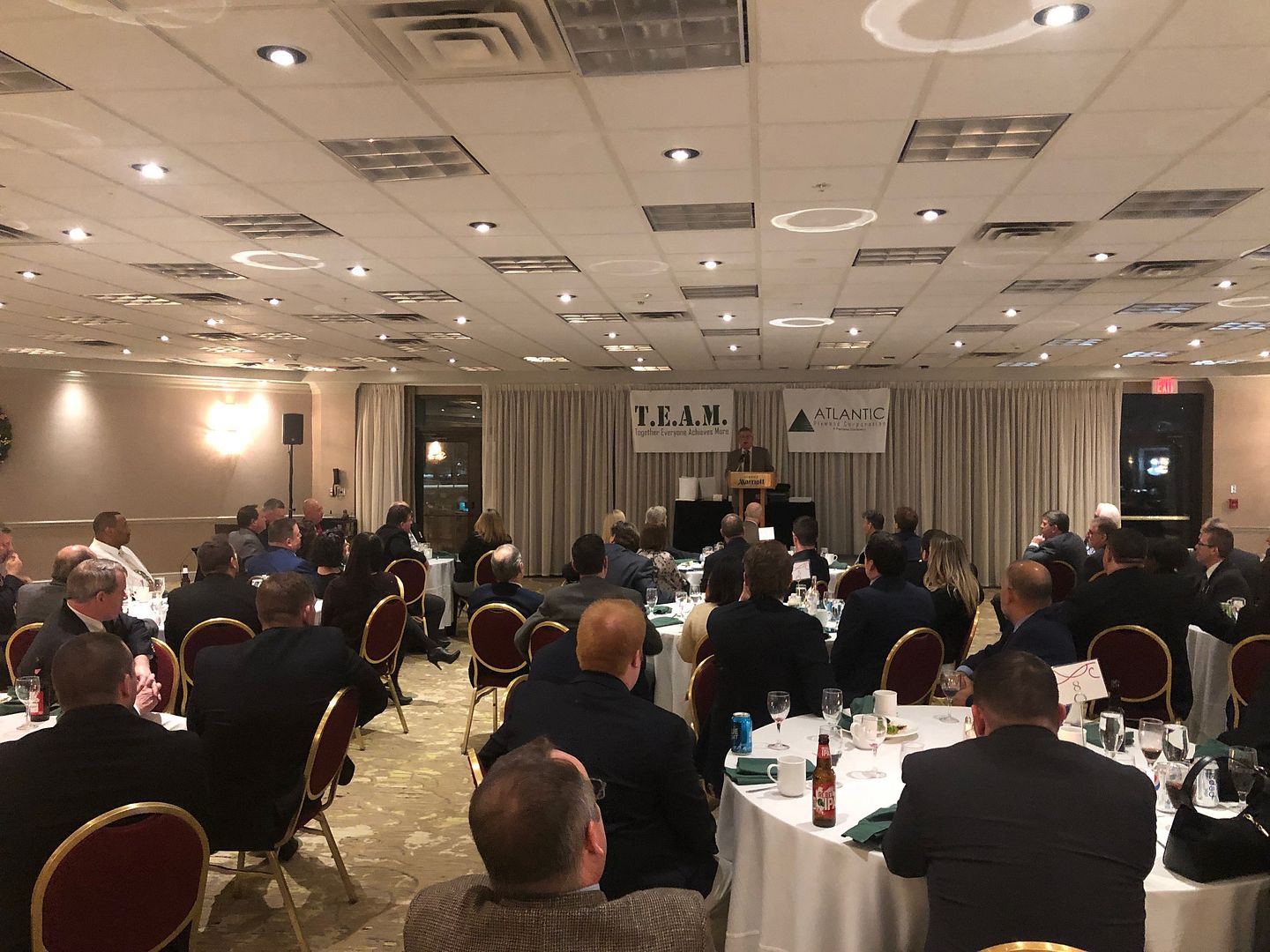 Each year we take a moment to recognize those employees who reached milestone anniversaries during the previous year (anniversaries measured from date of most recent hire), and those who retired.
Retirements:
John Blakeney
Bill Mootrey
Marvin Duensing
Bob Mancini
5 Years:
Daira Morales
David Oakes
Alexa Carpenter
Mike Viviano
Laurenio Pereira
Karl Verdun
10 Years:
Gail O'Keefe
Kevin Mawson
Elmer Marroquin
Michael Rowland
15 Years:
Pete Zaikarite
20 Years:
Wally Quinn
Kenny Gill
Dan Brandao
25 Years:
Russ Thompson
35 Years:
David Beaudry
The first award of the night was the Pride Award. This award is given each year to individuals who make an extra effort to make a difference in their branch and at Atlantic Plywood as a whole. The people that receive this award have not only consistently accomplished the task and goals that have been asked of them, but have also shown a strong commitment to Atlantic's missions and values. They take great Pride in not only getting the job done, but also going beyond what is expected of them in contributing their time, energy, and talents to further the growth and development of our Company.
Pride is a personal commitment! It is an attitude which separates! Because to them "It is a Matter of Pride"
This year's winners were: Lynn Troisi (Corp), Michelle Moore (CT), Mike Devito (CT), Eric Coleman (ALB), Larry Walker (Woburn), Jill Ferdinand (NJ), and Dan Brandao (RI). 
From Wayne Moriarty: This person started with Atlantic Plywood in 2012 and moved into their current role in June, 2016.  This person had no professional experience in their current field but was willing an anxious to learn. She has taken many online and live training sessions to improve her skills and has survived quite a few department audits with stellar results. She has a friendly and helpful demeanor which works well in this role as she works with all departments across the company. She works closely with our managers to get the desired results, and is not applying those skills to her work with her counterparts at Parksite. She is a true asset to Atlantic Plywood. Congratulations, Lynn Troisi.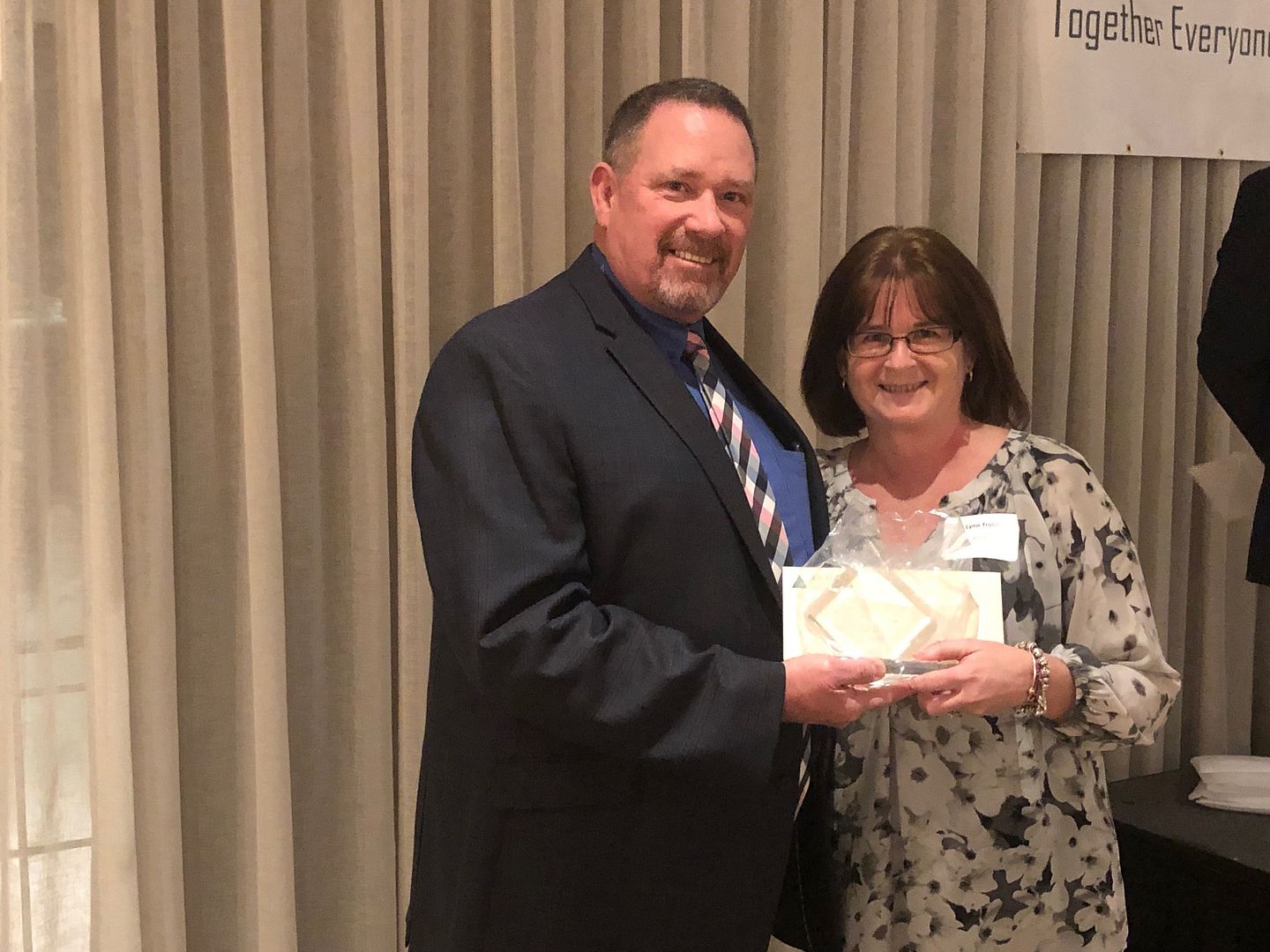 From Kevin Chouinard: Mike Devito has been  with the Connecticut Call Center since we started in 2013. Before that, Michael had spent time in a variety of important positions with Atlantic Plywood. Michael's vast knowledge products like Blum and M.L. Campbell has help nurture our younger ISRs on a daily basis.  His daily interaction with them has been extremely valuable to their growth in the call center. Mike continues to educate himself on the new additions to the ever-growing APC product mix and has proven to be a resource to the other members of our Call Center.  Mike's strengths come from his product knowledge and his ability to pass on that knowledge to his fellow workers.  He remains a valuable tool in the growth of our Call Center ISRs. Mike understands the needs of our customers and goes out of his way to meet them. 
From Kevin Chouinard: Michelle Moore has been with the Connecticut Call Center since we started in 2013. Before that, Michelle was a very important member of our Insides Sales staff handling our CT and Metro locations.  2018 marked change for the CT Call Center.  With the hiring of new personnel, Michelle stepped up into a leadership role and personally took on the challenge of assisting in the effort to train our new employees.  Michelle continues to educate herself on the new additions to the ever-growing APC product mix and has proven to be a resource to the other members of our Call Center. Michelle understands the Atlantic Plywood message and goes above and beyond to ensure that the APC message is communicated with each customer interaction.
From Jeff Engelbrecht: Eric Coleman has been a key cog in the machine that is the Albany Hub for the last three years. Eric has accepted every challenge and proven to be a steady, integral leader to the Hub team. Eric has excelled in every part of the Hub, from laminate, to hardware, cycle counting, quality control and being a trusty, reliable floor general, Eric has proven that his commitment to Atlantic Plywood and his staff are a true matter of Pride.
From Jeff Engelbrecht: Larry Walker has been the lead Tint Technician for just over two years and has proven himself to be a reliable, productive and extremely talented member of the Tint Design Studios. Since day one, Larry has handled the load of two locations, fulfilling all custom matches for both Woburn and Vermont. Furthermore, at last tally, Larry was single-handedly responsible for almost 25% percent of all tinting activity throughout the company, producing almost 2,000 more colors than the next closest branch. Larry has also jumped into Milesi, handling all the waterborne colors for the entire company. His skill and dedication to the success of Atlantic Plywood are a true matter of Pride.
From Eric Brooks: This individual has been a longtime employee at the E. Providence location as a warehouseman, a driver, as well as the assistant warehouse foreman.  He has an unmatched work ethic and attitude and is always open to suggestions to get the task at hand accomplished in the fastest and most efficient way.  His first response when asked"Can we make this happen?" is  "Yes, how do you want to do this?" His "can do" attitude is instrumental in helping to cultivate a positive atmosphere among his peers. He is always willing to pick the extra order or jump into a truck when needed to make a delivery to maintain the highest level of customer service, which is key in helping us grow our business.  This person takes time to teach his peers how to do things properly and takes pride in doing the job right the first time. I overheard some branch employees talking last week, "if branch operations were like fantasy football, Dan Brandao would be my number one overall pick!" It's a matter of Pride for Dan Brandao…Congratulations to Dan!
From Ken Zarrella: This recipient is in a position that is sometimes taken for granted. Although our spec reps aren't involved in the everyday transactions and the organized chaos involved in getting orders out the door, they are one of the most important influencers in the commercial business that drive our success. Her creativity and presentation skills are among the best I've ever seen. Her product knowledge and the relationships she's developed with both the A&D community as well as our key vendors have helped made APC the most respected resource in the market. 
I read a study a few years ago about how when people are in the early stages of a relationship their heart rate and blood pressure shoot up when the other person walks into the room. With older couples that have been together for a long time, the heart rate goes down and a sense of calm takes over. She literally radiates that friendly level of comfort as soon as she walks in the room.
For Jill Ferdinand…. It's a matter of pride.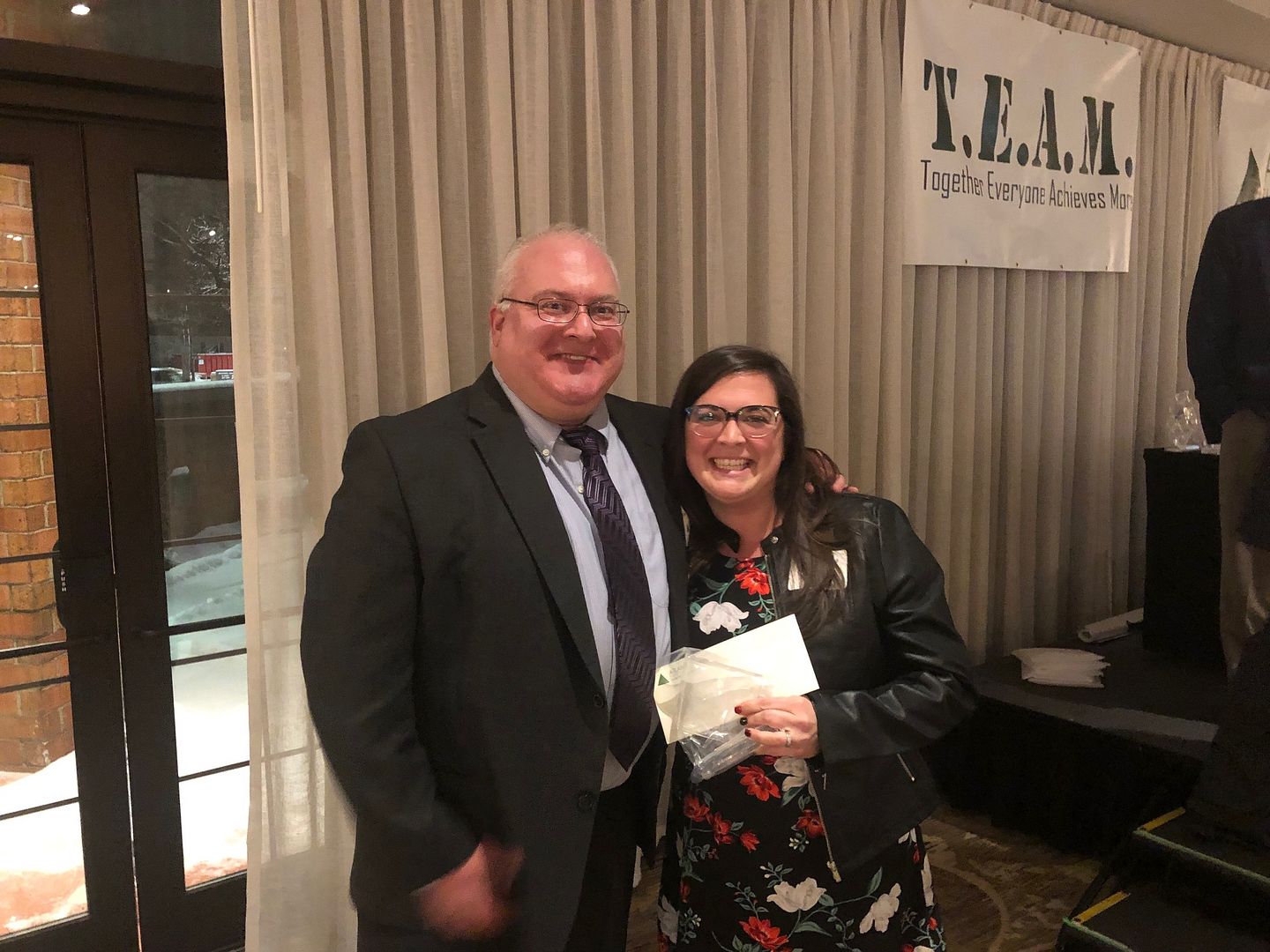 The next award was the Above & Beyond Award.  This award is a way to recognize the outstanding commitment demonstrated by employees who consistently exceed expectations in the performance of their duties. These employees continually go beyond what is expected of them and do whatever is necessary to accomplish the task assigned.  He or she is continually willing to go above and beyond their regular job responsibilities and show the ability and willingness to work cooperatively with fellow employees and management.  Often, these unsung acts of service go unrecognized.
From Eric Brooks: This individual came to Woburn a few years ago and quickly settled in as the right hand man to the Foreman. At a time of transition when the operation needed people to quickly learn the system and how to work within it, this individual rose to the challenge.  He learned our computers, our policies, our salesmen and our customers, and understood how to keep things moving forward. He understood there are a lot of moving parts working together toward the common goal of moving more product to our customers in the most efficient way possible, day in and day out.  He has been open to adding on late orders when time and space on the truck permits. He has been willing to change plans on the fly when the circumstance dictates and even jump in the truck to make deliveries when required. His willingness to go Above and Beyond to meet the needs of the customers and his coworkers, make Dan McNena a worthy recipient of the Above and Beyond Award.
We do not do give out this award every year, but we had one person who was nominated twice this year for Most Improved Outside Sales Rep. This individual as of December 2018, must have a minimum of two years employment, and have shown remarkable improvement in his/her territory, in regard to certain products, overall results, and in professional growth as an outside salesperson.
From Emily Vella: I'm typically not up here for this award, but I would like to take the time to acknowledge someone who goes above and beyond just the sales numbers. I am fortunate to be able to work with each and every Outside Sales Rep and while we have a great group of people, there are some attributes and qualities that jump out at me and separate this person from others.
This person embraces marketing and sends out more emails than any other OSR. He follows up on any lead given to him and is always willing to provide feedback in any way. Having had the opportunity to travel with him in the last year, it is abundantly clear that he has a natural rapport with his customers.  He has a natural curiosity and uses that to gather information and find the best solution for his customers, who very obviously respect him and value the knowledge that he has as both a salesperson and former woodworker. This individual is always looking for ways to challenge themselves and learn more and never gives up. Congratulations, Rory Kennedy.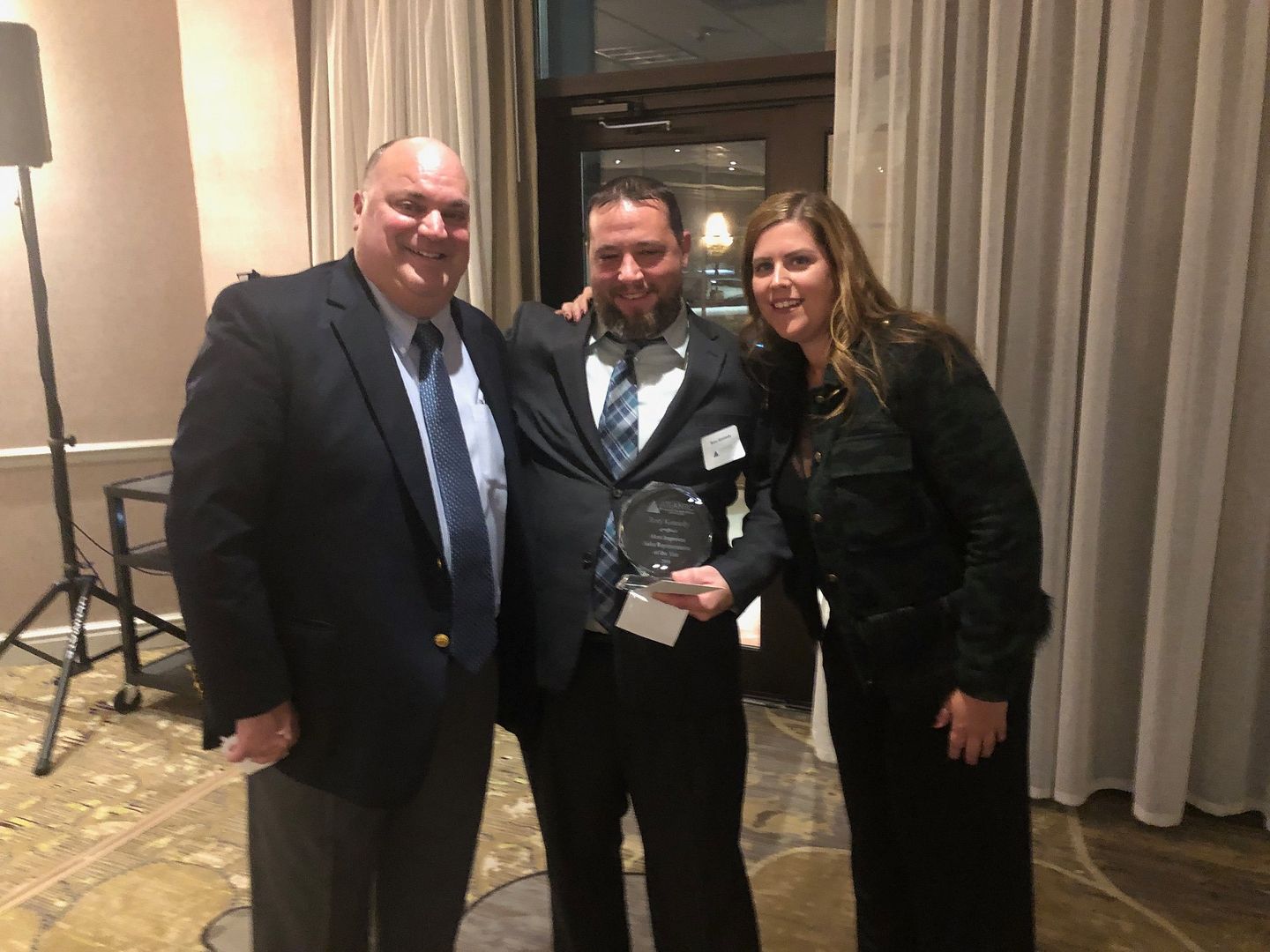 The next award was for Product Specialist of the Year. This person should best represent and have accomplished the goals set forth by his/her product manager.  He or she should not only be a great sales representative of Atlantic Plywood, but also a great teacher of his or her product line.  He or she must show quantitative results in selling their product line and also be perceived as the best by their peers.
From Sean McDonald: There are two nominees for 2018 Product Specialist of the Year. The first nominee is Joel Wilson, Lacquer Specialist- Rochester. Joel has grown the M.L. Campbell business in his territory consistently since he has joined our team. Joel finally hit a long term sales goal in 2018 and will continue to grow his Sales in the years to come.
The second nominee is Mark Carrier, Lacquer Specialist- Woburn. Mark and the Woburn branch have consistently been one of the Top Three branches in sales for the M.L. Campbell line. Through the end of November, and for the first time ever, Mark and the Woburn branch are Number One in sales for the MLC line.
What these two gentlemen have in common is that every day they go to work and do what needs to be done to find new business, make sure orders are correct, customers are using the products correctly, and that colors match. This is what makes them, their branches, and Atlantic Plywood successful.
Congratulations to this year's winner- Mark Carrier.
Our top Sales award is named for an individual who has excelled in his or her particular field over many years and whose name has become synonymous with being the absolute best in that field. In 2014, we had the honor of recognizing Bob McKenna and his accomplishments in his time at Atlantic Plywood. In 2015, the award for Outside Sales Rep of the year was renamed the Bob McKenna Award for Excellence. Nominees for this award best represent and have accomplished the goals that each manager has set forth for that individual.  He/She is a good representative of Atlantic Plywood on the street and shows quantitative results in selling the whole product line. He/She is perceived by their peers as the best of the best! This year's nominees were Wally Quinn- E. Providence, and Arsenio Alvarez- Carlstadt.
This year's winner has exceeded his budget by 8% YTD. He finished in the Top 10 in sales in 6 Key Product Categories, Top 5 in sales in 11 Key Product Categories, was #2 overall in MDF Sales and #1 in Formica HPL and Kitchen Accessories Sales. This person has made his mission to find solutions for his customers most difficult problems and worked diligently with his customers to develop specialty products for unique projects to keep specifications in-house for Atlantic Plywood and to create an unbeatable competitive advantage.  Additionally, this OSR has taken market share from his competition despite having two major competitors based at the center of his territory. Congratulations to Wally Quinn.
From his manager, Eric Brooks, So it is with great pleasure that I present the 2018 Bob McKenna Outside Rep of the Year to Wally Quinn."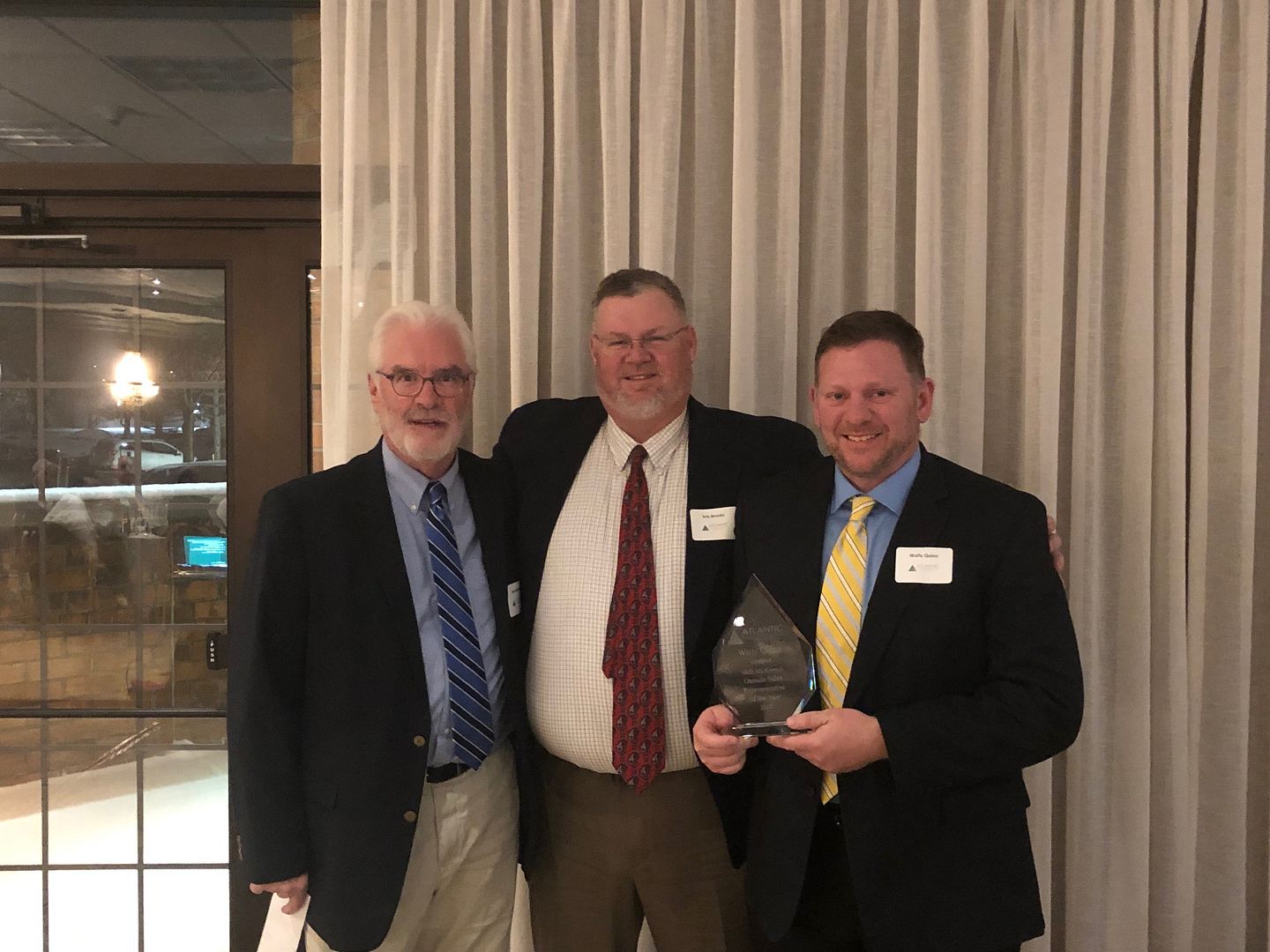 Our final individual award of the night was for our Gold Circle of Excellence. The Gold Circle recognizes those individuals who not only accept difficult assignments, but complete them with results beyond expectations. These individuals recognize challenges on their own and take it upon themselves to find a solution or come up with an idea that will make Atlantic Plywood a better company.
To all of us, these individuals are worth their weight in gold.
Past winners include: Gail O'Keefe, David Beaudry, Jeff Engelbrecht, Wayne Moriarty, Tom Palie, Lew Paine, Earl Nelson, Charlie Woodger, Bob McKenna, Pete Correia, Ken Gill, Sean McDonald, David Prifti, Eric Brooks, Ann Marie Forrester, Jason Pacheco, and Mark Fisher. 
From Jeff Engelbrecht: Atlantic Plywood is successful year after year because of the contributions and efforts of every single person in this organization. Certain individuals set themselves apart by displaying extraordinary Pride or going Above and Beyond, but sometimes we have the honor of working with individuals that go even further and display a true level of excellence.

This year I would like to recognize a person that is very essence of what it means to be an Atlantic employee. To this individual, Atlantic is not just a job or a career, it is a way of life. This individual has been part of the Atlantic family on and off for about 20 years, doing everything from moving branches as a teenager, to building boxes in the early days of the Hub, to being the lead Tint Tech in one of our biggest markets, to a purchasing agent, to leading the whole inside tint department to Operations Manager and so many things in between.
This individual has an unparalleled work ethic and dedication that I know I can always count on to exceed my expectations and produce results. This individual has been instrumental in many of our recent successes, but once again went above and beyond by taking ownership of the Farmingdale move, introduction of the Milesi line and leading our physical inventory teams throughout the branches in 2018. He knows our systems, procedures, products and most importantly, the Atlantic way. He demands and expects excellence from himself and those around him making this a better company.
This individual is the definition of success, using his incredible wealth of knowledge and experience to grow over the years both personally and professionally. He has earned the respect of every individual in the room by his actions. I am glad that after all these tough years, near terminations, sports injuries, bubble baths and meat products he still bleeds Atlantic Plywood. It is my honor and immense pleasure to welcome everybody's second favorite Woodger, Tim Woodger, to the Gold Circle of Excellence.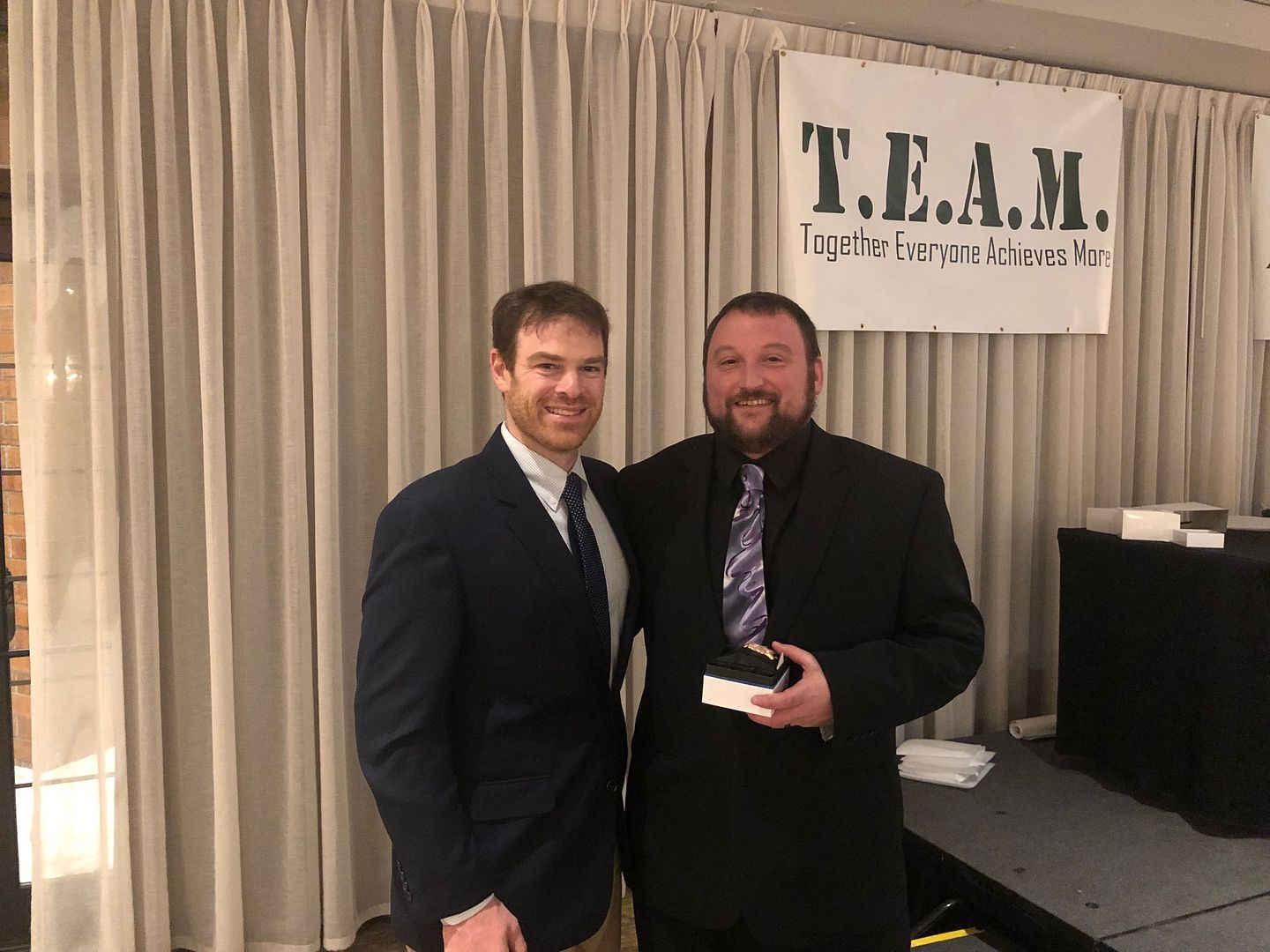 Our final award of the evening was for Branch of the Year.
From Marty Wojick: This year's winner has Sales at 106.7% of budget YTD, Gross Profit .1% over budget, and Gross Profit dollars at 106.3% of budget YTD.  Bigger is not always better! This branch shows that a loyal customer base and great staff can gain market share in a competitive area and hit their numbers.
The efforts of the outstanding leadership, talented sales team and hard working warehouse and delivery staff have produced quality results. It is my honor and privilege to award Westbrook, ME as our 2018 Branch of the Year.
Congratulations to all of this year's winners! We are looking forward to another exceptional year in 2019!