January 26, 2018
---
Formica Corporation, the inventor of laminate, launched its 2018 Living Impressions™ Collection, featuring 11 beautiful, durable and affordable Formica® Brand designs for today's homes at the Kitchen and Bath Industry Show (KBIS). The collection includes four new 180fx® patterns, six new Formica® Laminate designs, plus one new design in the Formica® Writable Surfaces collection.
Tactile stone and wood join aggregate and man-made materials in highly usable patterns. From the trendy, gray-stained Umbra Oak to the crisp, modern feel of White Shalestone, there is something for everyone.
The result of 12 months of extensive research and development, the 2018 Living Impressions™ Collection is inspired by three global macro-trends that Formica Corporation has identified as influential for 2018:
Neo Chalet, bringing the presence of nature indoors: Reconnecting with our surroundings in a more authentic way with wood and stone materials inspired by nature, and providing an unfinished or raw aesthetic in a sophisticated manner.
Millennial Maker, celebrating craft and artisanal work: Utilizing man-made materials with a connection to true craftsmanship. This theme hovers between traditional and contemporary, with handcrafted elements to give spaces their charm.
Modern Gentleman, embracing moody, sophisticated tones: Creating a dark, rich space for retreat. Experimenting with tonal colors, classic stones, exotic woods, warm metals and matte finishes that absorb light.
Based on these three macro trends, Formica Corporation introduces 11 new Formica® Brand designs:
New 180fx® Laminate designs
Four new designs join the 180fx® collection, highlighting true-scale stones in granite, marble and quartzite, along with Formica Corporation's first man-made composite pattern for the category:
Quartz Composite – inspired by quartz, Formica Corporation's first man-made 180fx® pattern emulates the Millennial Maker trend and is a composite created using concrete and recycled glass
Sea Pearl – a blend of warm and cool grays with a dramatic vein in rust, evoking the Neo Chalet trend
Quartzite Bianco – a soft white and gray quartzite-inspired look interspersed with charcoal veins, fitting with the Modern Gentleman trend
Stormy Night Granite – a deep, multi-tonal granite look, designed for the Modern Gentleman trend, showcasing dramatic movement
New Formica® Laminate designs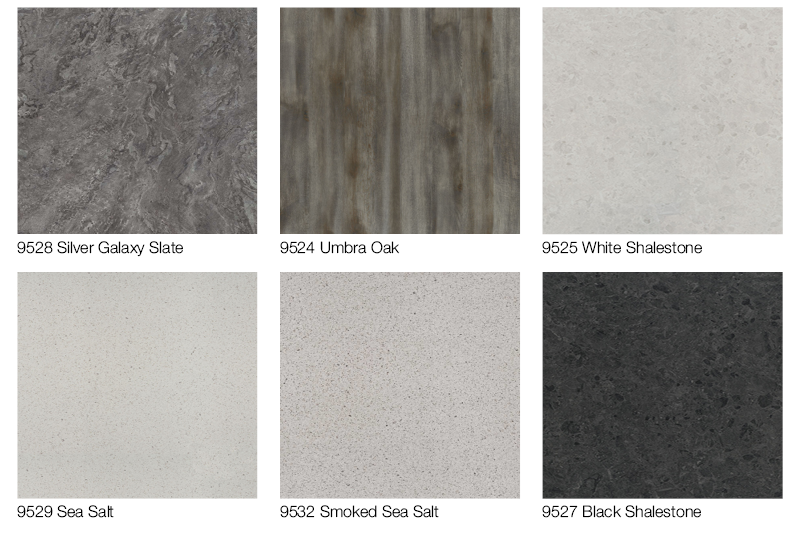 Six new and highly usable Formica® Laminate designs evoke tactile stone and wood joined with aggregate and man-made materials:
Umbra Oak – a rustic yet sophisticated dark gray stain over humble knotted oak that beautifully embodies all three macro trends
Silver Galaxy Slate – a contemporary look with elegant swirls and variations evoking the Neo Chalet trend
White Shalestone – a versatile pattern that also fits well in the Neo Chalet trend, featuring clean and crisp white with cool, speckled grey breccia detail
Black Shalestone – an elegant deep charcoal color with black layering, evoking a Modern Gentleman vibe
Sea Salt – created with recycled glass and concrete, this pattern features a simplistic white crystal-inspired base with warm and cool gray particles
Smoked Sea Salt – a warm gray base with white and charcoal particles from recycled glass and concrete,  inspired by the Millennial Maker trend
New Formica® Writable Surface design
A new, durable high-gloss markerboard surface joins the Formica® Writable Surfaces collection as homeowners continue to seek creative ways to communicate and express themselves:
HappyWords – a companion to 2017's LoveWords, the new HappyWords design features terms for happiness, joy and contentment written in English, Spanish and French in festive colors. It provides a cheery writing surface for message centers, menu boards, grocery lists and calendar notes and can be applied vertically or horizontally, from desktops to walls.